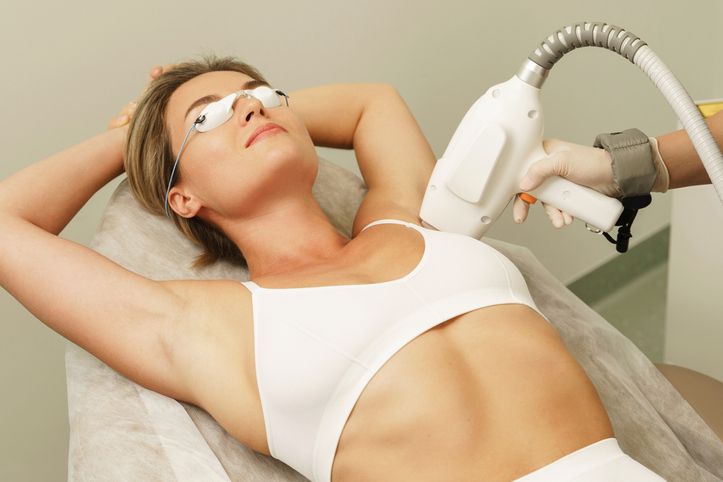 IPL, or Intense Pulsed Light Therapy, is utilised to eliminate undesirable body hair, inhibit hair growth, and cure pigmented or vascular lesions. Using a broad spectrum of light, IPL is able to target dark hair. Similar to how wearing black on a sunny day may cause you to overheat, dark hair absorbs light, warms up, and becomes brittle at the roots. IPL treatments have one major advantage over conventional hair removal techniques, such as waxing and plucking: they are permanent. Any living hair follicles that are treated are annihilated and cannot regenerate.
Thus, IPL Hair Removal Treatment from New Beauty for permanent hair removal is more successful on darker hair than on lighter hair. After completing your IPL treatment, you will notice a reduction in unwanted body hair. Thankfully, New Beauty is pleased to provide you with the best available treatment through IPL Hair Removal Treatment, which aids in the permanent removal of hair follicles in regions such as the upper lip, bikini line, and underarms, and is safe for most skin types.
IPL Hair Removal Therapy employs light radiation to target a specific skin tone. When the skin is heated, the body destroys undesirable cells, eradicating the condition being treated. The IPL Hair Removal Therapy at New Beauty permanently eliminates ingrown hair, regardless of its thickness or hair colour.
Contrary to lasers, the IPL device generates multiple wavelengths of light pulses that target melanin to break it down and expose softer, brighter skin. Because your skin tone becomes more luminous after IPL, you may appear younger, and because it does not hurt the surrounding skin tissues, you can recover quickly.
Our wellness specialist at New Beauty begins the IPL Hair Removal Treatment by cleansing the region to be treated and performing a patch test to ensure you receive the greatest benefits. You are also instructed to wear protective goggles during your treatment to safeguard your eyes. The IPL Hair Removal Treatment handpiece is then used to send light pulses into the skin to halt the growth of hair follicles due to a shortage of nutrients. This also stops future hair regrowth.
Your skin may sting during generic IPL hair removal therapy due to the pulses. Some individuals relate the feeling to being snapped by a rubber band. Moreover, New Beauty's IPL Hair Removal Treatment features a sapphire cooling zone on the device, which helps to calm the skin and prevent any discomfort that may occur throughout the treatment. The IPL Hair Removal Therapy might last between 20 and 30 minutes, depending on the area of the body being treated and its size. If you have a hectic schedule, say goodbye to home laser hair removal and sign up for a IPL Hair Removal Treatment trial today!