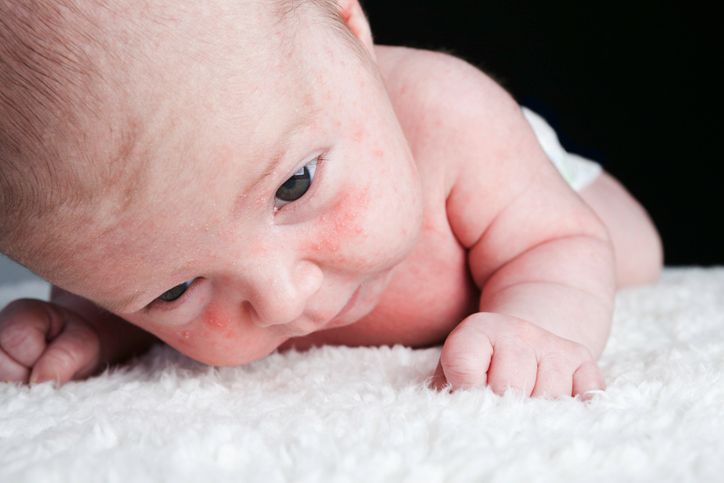 You can get milia no matter your age or skin type!
Primary milia are the most common type of milia. It can happen to all ages - from newborns to older adults. Primary milia occur randomly and subside within weeks to months. Still, sometimes primary milia can stay longer than they are welcomed.
Newborn babies are most prone to milia. Neonatal milia (aka primary milia or baby acne) is a type of primary milia found in over 50% of babies. The newborn skin is still developing, and the hair follicles are not fully grown, making clogging very easy. You will likely see baby acne on a baby's face, especially around the eyes, around the nose, and at the corners of the mouth.
Genetics and medical conditions are often associated with milia appearance.
Juvenile milia mean frequent milia appearance due to rare genetic skin conditions often emerging in childhood. Examples of these skin conditions include Pachyonychia congenita (PC), Gardner's syndrome, Bazex-Dupré-Christol syndrome (BDCS), and Nevoid basal cell carcinoma syndrome (NBCCS).
Milia en plaque is a similar condition to juvenile milia as it is inherited. Milia en plaque is triggered by autoimmune skin diseases (i.e. discoid lupus, lichen planus). Milia en plaque is most common among middle-aged women, and is identified by a tight pack of milia in a skin area, typically over the head, on the eyelids, jaw and neck.
Multiple eruptive milia is a condition in which many milia cover a large skin area, resulting in broad milia lesions. These milia lesions can be itchy and usually last for weeks and months.
Secondary milia are also known as traumatic milia. As the name suggests, secondary milia are caused by external skin damage, primarily by excessive exposure to sunlight, rashes and injuries to the skin areas. Excessive sun exposure ages up the skin and slows down the shedding of old skin cells, increasing the risk of their entrapments. Likewise, injured skin, rashes and other skin irritation disrupt regular skin metabolism, leading to milia.
Lastly, medications and products-induced milia are common. Some thick skincare products can build up on your skin and hinder proper skin cell shedding. Steroid creams can result in milia on the skin area.