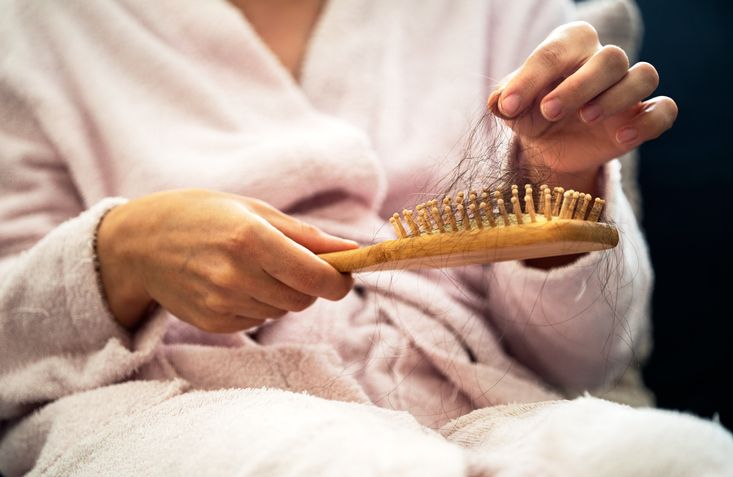 Hair loss can develop in many ways and forms depending on the cause. The main symptom of hair loss can be losing excessive hair than usual. But it can be harder than you think to recognize it.
The below symptoms of hair loss can help you with identifying:
Widening part : When you part your hair and you can notice that your part is getting wider, this can be one of the main signs of hair loss.
Gradual thinning on top of head: This is the most common type of hair loss which affects mostly among aged people. These symptoms can occur in men when the hair begins receding at the hairline on the forehead, while for women this starts by having a broadening effect on the part of the hair. An increasingly common hair loss pattern in older women is a receding hairline which also can be called as frontal fibrosing alopecia.
Receding hairline: Like the widening part, you can notice your hairline visibly higher than usual, which is another sign of thinning hair.
Sudden Loosening of hair: After combing your hair, do you see collecting more hair than usual from your comb? If yes, then this is a sign of hair loss. This can be caused by a physical or emotional shock which causes the hair to loosen. You can notice handfuls of hair may fall out during washing or brushing your hair. Even a gentle tugging can pull out many hairs. This is a temporary hair loss even though it causes the overall hair loss.
Patches of scaling that spread over the scalp: These can be a sign of ringworm. It can be varied in size and can grow over time. This can be accompanied by broken, swelling, redness and sometimes oozing.
Clogged drains: After washing your hair, you may find your sink or shower being clogged by your hair.
Pain or itching: Another symptom can be when you feel pain or experience itching on your scalp.
Circular or patchy bald spots: Few people may experience circular or patchy bald spots on the scalp, beard or eyebrows. This can be another sign of hair loss. During this process, you may experience itchiness or pain before the hair falls out.
Full-body hair loss: Another underlying cause can be because of some conditions and medical treatments such as chemotherapy for cancer. This can lead to overall loss of hair all over your body. Normally this hair grows back.