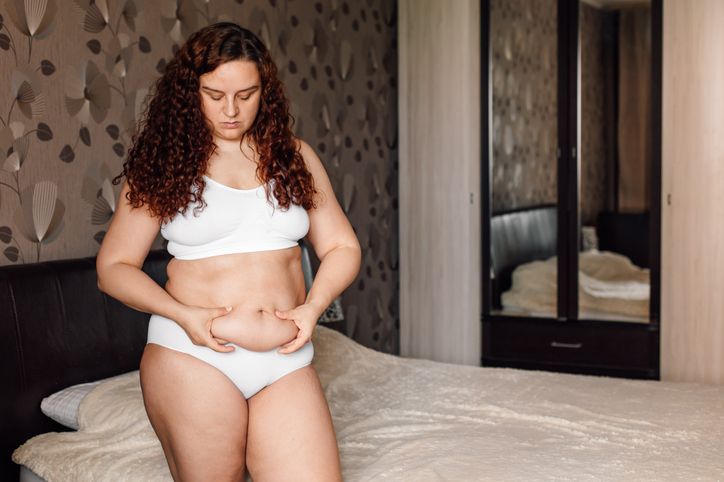 If you are someone that managed to achieve healthy weight without relying on any weight loss drug, you deserve a medal. However, the only thing that comes to mind when you consider weight loss steps like restricting food intake or more exercise is the agony you endured, and the problem after you reduce your weight does not end there.
When people lose weight, their skin often gets loose and saggy. It can happen anywhere on the body, but it's most obvious on the face, neck, arms, and stomach. When the skin loses its elasticity and stiffness, which can happen with age, weight loss, pregnancy, or other things, this is called sagging skin. The skin gets loose and stretched, and it may hang down or get wrinkles.
The loss of collagen and elastin, two proteins that give the skin its structure and elasticity, is the main reason for sagging skin after weight loss. Collagen and elastin are made in the middle layer of skin, called the dermis. When a person gets fatter, their skin gets bigger to fit the extra fat. This can hurt the collagen and elastin fibres in the dermis, making them weaker and less bendable. When a person loses weight, their skin may not be able to go back to its normal size and shape. This can cause their skin to sag.
Several things can affect how much sagging skin a person has after losing weight, like:
* How much weight a person loses: The more weight a person loses, the more likely it is that their skin will get loose.
* How fast you lose weight: If you lose weight too quickly, your skin won't have time to adjust to the new shape and size of your body.
* Age: As people get older, their skin naturally gets thinner and less pliable, which makes it more likely to sag.
* An individual's genes: Some people's skin is more flexible than other people's, which can affect how well their skin adjusts when they lose weight.
* The way the person lives: Smoking, being in the sun, not eating well, not drinking enough water, and worry can all damage the skin and make it less flexible.
When a person loses weight, their skin can sag, which can hurt their self-esteem and quality of life. It can also hurt your body in ways like rubbing, irritation, illness, or making it hard to move around. Some people choose to have plastic surgery to get rid of extra skin and make themselves look better.
Many people wonder if weight loss pills can make their skin tighter and lighter after they lose weight. The answer is not so easy, because different pills may have different effects on the skin. Some weight loss pills may have chemicals like vitamin C, zinc, and biotin that can make skin more elastic, keep it from drying out, and make more collagen. These ingredients might help make your skin look less saggy and wrinkled after you lose weight. But some weight loss pills, like those with caffeine, diuretics, and stimulants, may have ingredients that are bad for the face. These chemicals may cause dehydration, inflammation, and oxidative stress, which can damage skin cells and make the skin look dull and old. So, no matter how attractive or intriguing a weight loss pill sounds, it's important to talk to a doctor before taking weight loss pills and to eat well and take care of your skin to keep your skin healthy after you lose excess weight.