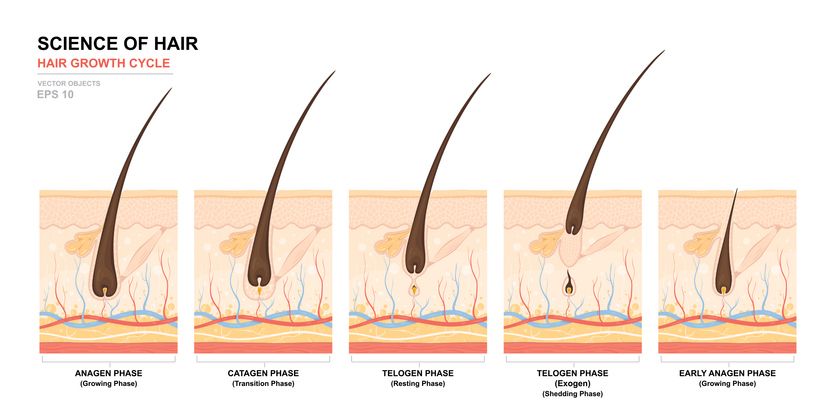 The roots of your hair are in the follicles that are under your head. The roots are made of the protein keratin, which is also found in your nails and skin. The roots are fed by the blood vessels in your head, which also tells them to make new cells. These cells push through the follicle and come out of the head as a hair shaft.
The cuticle, the cortex, and the medulla are the three parts of the hair shaft. The cuticle is the top layer of hair. It keeps the hair from getting damaged and makes it shine. The cortex is the main layer, which is made up of pigment and is what gives your hair its colour and texture. The medulla is the deepest layer, and only thick, tough hair has it.
The hair shaft is not alive, so once it leaves the head, it doesn't grow or change. It can, however, be changed by things like heat, chemicals, sunshine, and physical stress. These things can hurt the surface and cortex of the hair, which can lead to split ends, breakage, dryness, frizz, and a dull look.
Growing hair is not an easy process. It has four different stages, each of which has its own features and length. If you know about these stages of hair growth, you can spot and stop some kinds of hair loss that can affect the quality and amount of your hair.
In general, hair growth cycle breaks into 4 phases:
* Anagen: This is the active growth phase of hair, when the cells at the root of the hair split quickly and add to the hair shaft. Depending on your genes, hormones, and health, this time can last anywhere from two to eight years. How long your hair can grow will depend on how long this time lasts. At any given time, about 85% to 90% of your hair is in this phase.
* Catagen: This is a short transitional phase that lasts about two to three weeks. During this phase, the hair shaft gets smaller and pulls away from the dermal papilla, which gives the hair blood. The hair stops growing and gets ready for the next phase, which is when it rests.
* Telogen: This is the sleeping phase of hair, when the hair follicle stays dormant for about three to four months. During this time, the hair neither grows nor falls out. At any given time, about 10% to 15% of your hair is in this phase.
* Exogen: This is the hair's shedding phase, when the old hair falls out and new hair can grow in its place. During this time, you may lose between 50 and 100 hairs per day, which is normal and not a sign of hair loss.