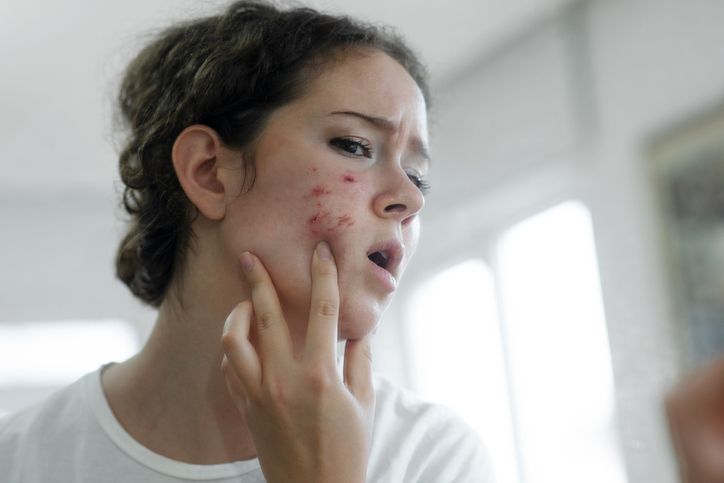 Having a consistent daily skincare routine can help to prevent and treat acne breakouts. Here are a few tips to get you started:
1. Wash your face twice a day with a gentle, non-irritating cleanser that contains salicylic acid or benzoyl peroxide to unclog pores and reduce oiliness.
2. Follow up with a light moisturizer or facial oil to hydrate your skin and keep it balanced.
3. Apply a spot treatment with salicylic acid or benzoyl peroxide as needed to target individual pimples.
4. Use a gentle scrub or chemical exfoliant one to two times a week to remove dead skin cells and further unclog pores.
5. Wear sunscreen every day, even when it's cloudy, to protect your skin from UV damage and help reduce the risk of scarring.
6. Avoid touching your face throughout the day and never pick at or pop pimples, as this can lead to infection and further inflammation.
7. Drink plenty of water throughout the day to keep your skin hydrated and flush out toxins from your body.
8. Keep your hair away from your face and be sure to wash it regularly to avoid extra oil buildup on your skin. If you have long hair, use a satin pillowcase which is less likely to irritate skin than cotton.
9. Get enough sleep every night and try to manage stress in healthy ways such as yoga, meditation, and exercise.
10. Eat nutrient-rich foods such as fruits, vegetables, healthy fats, and lean proteins which will support overall health and clear skin.
11. Lastly, talk to your doctor or dermatologist if over-the-counter solutions aren't working; they may suggest prescription medications such as oral antibiotics, topical retinoids, hormonal treatments, or laser therapies depending on the severity of your condition. With patience and commitment, you'll find yourself fighting acne and winning with clear, glowing skin!